Simone Biles has defied so much- personally and professionally. Especially in the last couple of years. In 2018, the gymnast she had been sexually abused by former USA Gymnastics doctor Larry Nassar; the organization she was winning medals for had covered up his crimes. Still, going into the Tokyo Olympics in the summer of 2021, after a successful competitive year, she expected things to go as they always did. Then, on the fifth day of competition, she pushed off the vault and discovered she couldn't see herself in her head, couldn't see the map of the floor in order to land. It wasn't just unexpected — it was terrifying.
Could you imagine being that high in the air and having no idea where you air. Your body and mind are just there- no sense of direction, just vibes.
She'd lost her air awareness.
She had the "twisties," which is when an athlete's mind and body lose connection and muscle memory fails to kick in. Let any gymnast describe them to you, and it will sound like a unique hell: 1988 Olympian Missy Marlowe called them "a nonserious stroke."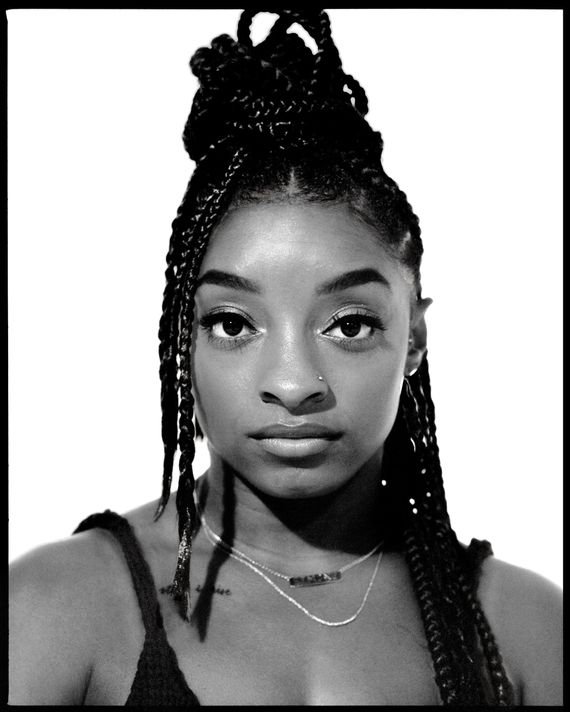 "Say up until you're 30 years old, you have your complete eyesight," Biles says. "One morning, you wake up, you can't see shit, but people tell you to go on and do your daily job as if you still have your eyesight. You'd be lost, wouldn't you? That's the only thing I can relate it to. I have been doing gymnastics for 18 years. I woke up — lost it. How am I supposed to go on with my day?"

Simone Biles, The Cut
HERE ARE 5 THINGS WE LEARNED FROM SIMONE'S LATEST INTERVIEW
She's a mimosa mami. Early in the interview, Simone suggests that she and her interviewer ( Camonghne Felix ) have mimosas and chat about Telfar bags. My kind of girl for sure!
The ease of postseason Simone Biles is an art. In the months when she's competing or preparing to compete, she's focused, regimented. Today, she seems more open to going with the flow. Life is no less busy, but the stakes are much lower.
Simone Biles is the most decorated gymnast of all time. She's earned 32 Olympic and World Championship medals. There are also four gymnastics elements named after her: one on beam, one on vault and two on floor.
She has beaten the records of her idols — Nastia Liukin, Shawn Johnson, Alicia Sacramone.
She testified on the floor of the US Senate at the Judiciary Committee hearing on the FBI's handling of the Larry Nassar investigation.
She begins her statement by recounting her significant contribution to the history of sport in this country. "I am also a survivor of sexual abuse," she continues, "and I believe, without a doubt, that the circumstances that led to my abuse and allowed it to continue are directly the result of the fact that the organizations created by Congress to oversee and protect me as an athlete, USA Gymnastics, and the United States Olympic & Paralympic Committee, failed to do their jobs."
As she talks about this, her voice breaks. "Sorry," Biles says in a low whisper. She continues, detailing the rage she felt when she learned, in 2016, that her teammate had told the former head of USAG Women's Program she suspected Biles had been harmed by Nassar too. While an investigation was under way, and others had been informed, neither USAG nor the FBI contacted her or her parents; Biles was not told about the investigation until after the Rio Games.
"This will probably be something I work through for 20 years," she says. "No matter how much I try to forget. It's a work in progress." She's getting ready to tour with Team USA members, but she's no longer training; winning is on the back burner. Mostly, she is spending time with her boyfriend, the football player Jonathan Owens; her family; and her closest friends. She's going on vacation, taking thirst traps in Cabo, learning how to see herself and her own needs and desires more clearly. Early in her life, Biles developed a sense of maternal responsibility. She mothered her little sister when they were in foster care.
The last book Simone Biles read is also one of my favorite "quick reads": The Subtle Art of Not Giving a Fu*k by Mark Manson.
"The girls were laughing at me whenever I was reading that, like, 'You are just so nonchalant about everything now,' " she recalls. "Like, 'This is so nice. How do you do that?' I said, 'Just read the book. You'll learn.' " Something about this slim orange book unlocked a door to self-efficacy. It gave her the permission to provide a little bit less labor, to offer Twitter less face time. She's giving less of a fuck about the cynicism of her haters; the expectations of fans, media, her coaches, her parents; giving less of a fuck about being perfect at the expense of her own health; giving less of a fuck about the demands that take her away from healing. She's giving one less fuck and giving one back to herself.
Biles knows there is a price to setting boundaries, and she's happy to pay it. "It does mean sacrificing some of that stardom," she says. "But at the end of the day, you can't have it all. And if you take care of your mental well-being first, the rest will fall into place." Being the girl who could show up for her team and support it in more ways than winning gold is pretty cool, too. This is the legacy she'd like to leave behind: one of moral fortitude and bravery.
You can read the full article here. *This article appears in the September 27, 2021, issue of New York Magazine.