It seems like everyday there's a new person throwing their hat into the Presidential race. This quick guide is a resource to make you more informed on each candidate and where they stand.
(In alphabetical order)
Joe Biden (76)
Resumé: U.S. senator from Delaware for like, 1000 years, VP of the United States
His big idea: To take back the soul of our nation! Specifically, he wants to rebuild the middle class through tax reform, free public college for everyone, an increased minimum wage, and more protections for workers, including pay transparency.
On other issues: While pro-choice, his reproductive rights record does have a few blemishes: In 1982, he voted in favor of an amendment that would allow individual states to overturn Roe v. Wadeand he has repeatedly voted for the Hyde Amendment, which bans federal abortion funding. He's not yet commented on whether he agrees or disagrees with Medicare for All (a plan popular with Democrats that was introduced by Senator Bernie Sanders and which would replace private insurance with a government-run program).
Controversy: Biden has been criticized for his handling of Anita Hill's testimony during Clarence Thomas's Supreme Court confirmation in 1991, namely that he allowed Hill to be verbally attacked by a panel of all-male, all-white members of Congress (he presided over the committee) and that his own line of questioning was unfair. He has since apologized to Hill and expressed regret for how he handled the situation. More recently, he has come under fire for his "awkward" or "creepy" interactions with women; he responded by saying he'll be more cognizant of other's personal space.
Cory Booker (50)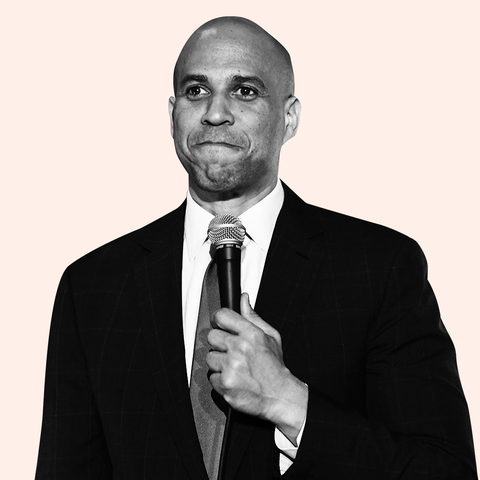 Resumé: U.S. senator from New Jersey; formerly mayor of Newark, New Jersey
His big idea: Booker's most notable policy proposal deals with gun reform. He rolled out a comprehensive 14-part plan that would, among other things, require firearm owners to pass an FBI background check and complete a gun-safety course. His is the most aggressive gun-control platform of any Democratic candidate.
On other issues: He has said his top three priorities are climate change, health care, and criminal justice reform, but it's the latter that he's majorly leaned into. He wants to cut mandatory minimum sentences in half for nonviolent offenders and make it easier for people with criminal records to vote and find jobs. He has also endorsed the Green New Deal(a grand climate-change plan that recently died in the Senate, RIP Earth) and Medicare for All and introduced a bill in the Senate that would legalize marijuana.
Controversy: He has been criticized for accepting campaign financing from Wall Street (candidates like Kamala Harris, Elizabeth Warren, and Bernie Sanders have said they won't accept donations from corporate PACs), although he's since distanced himself from that big bank money. Booker has also found himself on the opposite side of his fellow Democrats and many teachers' unions with his support of school choice and charter schools, an opinion that aligns him more with controversial secretary of education Betsy DeVos. And to end on the bizarre: he's been accused of making up a story about a drug dealer who threatened his life?!
Pete Buttigieg (37)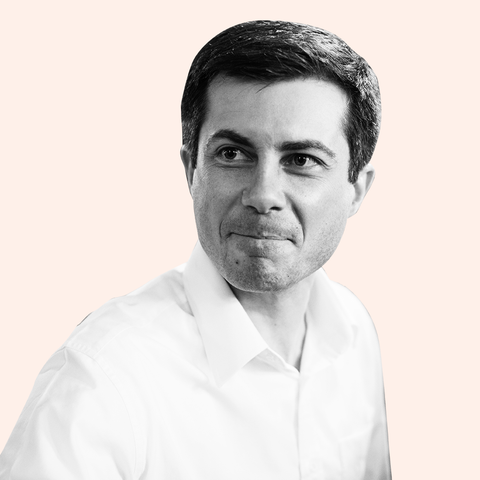 Resumé: mayor of South Bend, Indiana
His big idea: While Buttigieg (one more time for the folks in the back: BOOT-EDGE-EDGE) has attracted major buzz, he hasn't actually unveiled any big policy initiatives yet. When asked about his lack of a platform at a CNN town hall, he said: "I also think it's important that we don't drown people in minutia…"
On other issues: While he hasn't offered up any comprehensive plans (yet), he hasoffered up his opinion, saying he supports a woman's right to choose, believes in climate change, wants gun reform, and that the wealthy need to pay more taxes.
Controversy: In 2015, Buttigieg gave a State of the City speech in which he was quoted as saying "all lives matter" which was seen as a counter-slogan to Black Lives Matter. He recently said he stopped using the phrase once he realized it was "being used to push back" on the activism of the BLM movement.
Julián Castro (44)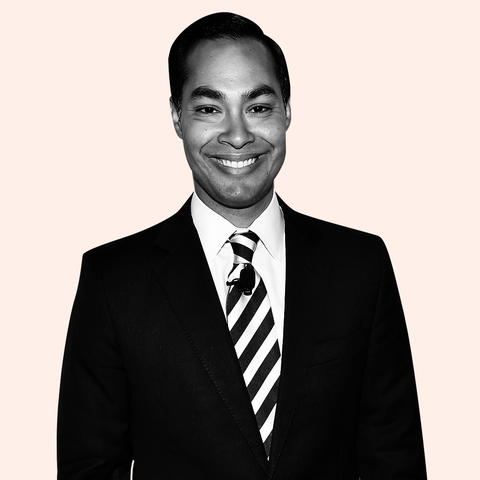 Resumé: former housing secretary and mayor of San Antonio
His big idea: While not exactly a new new idea, Castro has said on his first day in office he would recommit the U.S. to the Paris Agreement. (FWIW, most, if not all, of the candidates support the climate-change-fighting Paris Agreement but have not necessarily committed to making it a day-one priority.)
On other issues: He believes in a path to citizenship for most undocumented immigrants who are already in the U.S., universal health care for all (the idea that health care is a "right" but not necessarily that private insurance needs to go), and hopes to establish a universal pre-K program.
John Delaney (56)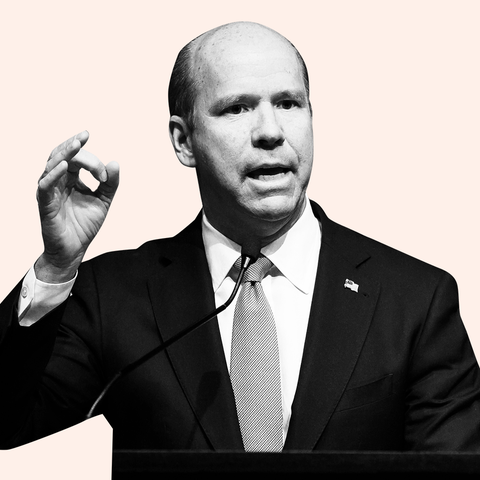 Resumé: former U.S. congressman from Maryland
His big idea: Delaney is big on tech and has touted his plan to roll out a program that would boost the economy by preparing the current workforce for jobs of the future, stepping up national security against technological threats, and guarding online privacy.
On other issues: Delaney has criticized the Green New Deal but is still a climate-change believer, saying he supports "realistic" goals like a bipartisan carbon tax. Separately, he supports universal health care but is not down with Medicare for All.
Tulsi Gabbard (38)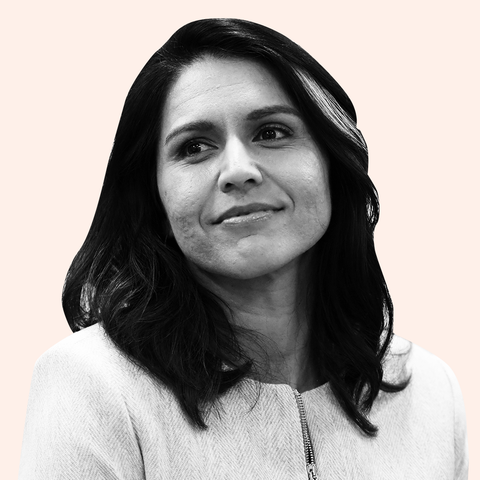 Resumé: U.S. Congresswoman from Hawaii
Her big idea: Gabbard is going green, proposing the "OFF Fuels for a Better Future Act," which would cut fossil fuel emissions to zero (yes, zero!) by 2050. She also wants to end subsidies for fossil fuel industries and ban fracking. Sound similar to the Green New Deal? While both are lofty (some critics even say impossible), Gabbard's plan sets out a specific timeline, costs, and financing.
On other issues: She's advocated for tuition-free public universities and community college, a reduction of our military presence in the Middle East, and Medicare for All.
Controversy: Gabbard worked for her father's anti-gay organization in the 2000s and gave interviews during that time calling homosexuality "not normal" and "not healthy." PBS reports that Hawaii's LGBT caucus did not endorse her in 2016. She has since apologized extensively, explaining that she was raised in a socially conservative household.
Kirsten Gillibrand (52)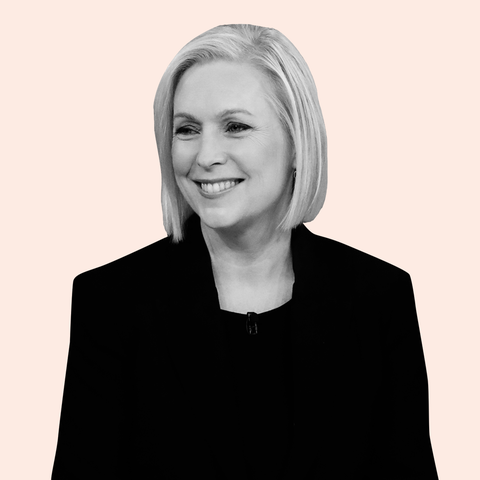 Resumé: U.S. senator from New York
Her big idea: Gillibrand has made universal paid family leave a central issue in her bid to relocate to the White House. She recently reintroduced the FAMILY Act that would guarantee new parents 12 weeks of partially-paid time off of work. Not a shocker given that she's long been an advocate for women, including fighting to reform how the military handles cases of sexual assault and speaking out frequently in support of #MeToo.
On other issues: Gillibrand recently announced that she would only nominate federal judges who agree to uphold Roe v Wade. She also supports raising the minimum wage to $15 (in fairness, others do too, including Amy Klobuchar, Kamala Harris, Elizabeth Warren, Beto O'Rourke, Julián Castro, and John Hickenlooper) and backs a federal jobs guarantee.
Controversy: She's been criticized for some of her previous views on immigration, including advocating for closed borders in 2007 and issuing flyers talking about how she fast-tracked the removal of "illegal aliens." She now says she's "embarrassed" by those old stances and has called for the abolition of ICE. That's not the only backtracking she's done on her former conservative-leaning stances: The NRA once gave Gillibrand an A rating.
Kamala Harris (54)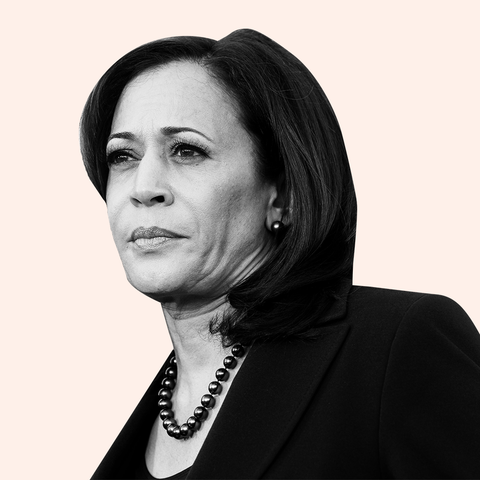 Resumé: U.S. senator from California; former attorney general of California and district attorney of San Francisco

Her big idea:  Harris has focused her platform on something else: giving teachers a $13,500 salary bump in hopes of closing the teacher pay gap.
On other issues: She wants tax credits for the working middle-class and for renters who spend 30 percent or more of their income on rent (oh, hi!). She supports Medicare for All and College for All, a plan that would make tuition free at public colleges and universities for students whose families make less than $125,000 a year.
Controversy: Harris's previous tenure as California Attorney General (2011-2017) has been scrutinized by critics who say her "tough on crime" record doesn't align with her image as a criminal justice reformer. Specifically, they point to her policy on truancy, which led to the arrests of parents who children missed 10 percent of school days and her failure to call for DNA testing in the potential framing of a black man for murder.
John Hickenlooper (67)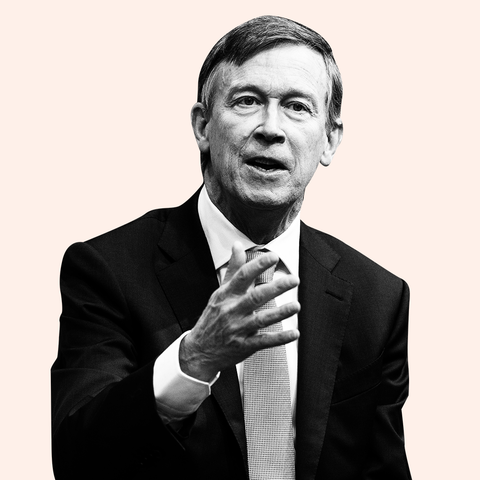 Resumé: former governor of Colorado, and before that mayor of Denver
His big idea: Hickenlooper has positioned himself as the most moderate candidate; he says he wants to end fighting and division between the political parties and bring the country together on issues like LGBTQ+ rights and gun reform. Rumor has it he's considered putting Republican John Kasich on his ticket if he gets the nomination.
On other issues: When it comes to the environment, his record is murky: As the governor of Colorado, he signed on to the Climate Alliance (a group of states that committed to meeting the Paris climate goals after President Trump withdrew the U.S. from the Agreement)—but he also supports fracking. He's a big advocate for free trade and has put his support behind universal health care.
Jay Inslee (68)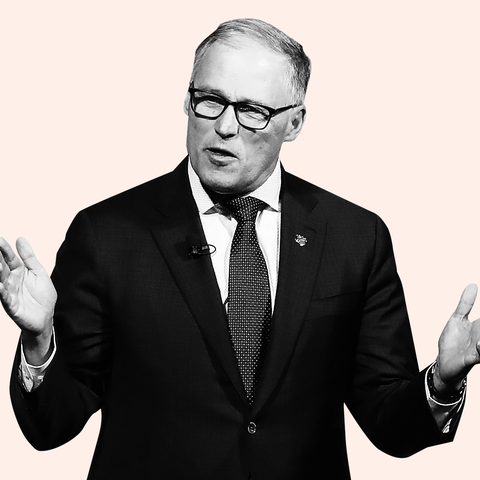 Resumé: governor of Washington
His big idea: Inslee is running on a single platform: to save the world from climate change. His multi-part plan, which he calls "Jay's Climate Mission" includes an economy fueled by 100 percent clean energy and the end of fossil fuel subsidies. With the Green New Deal now dead, many have said this is the most game-changing eco-proposal currently on the table.
On the issues: Inslee has spoken out in favor of legalizing marijuana, reforming gun laws, and increasing the minimum wage, but he ties it all back to the environment. He once tweeted, "Climate change isn't more important than health care. It IS health care."
Amy Klobuchar (58)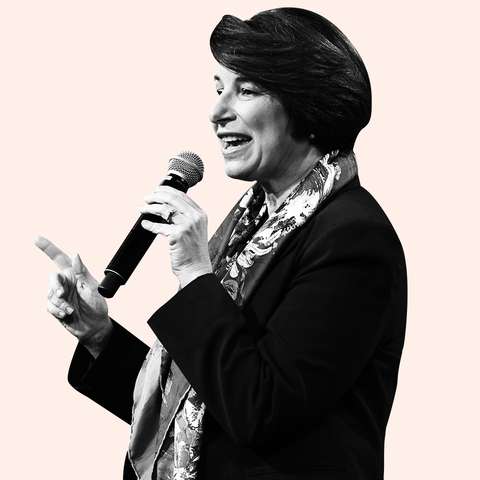 Resumé: U.S. senator from Minnesota
Her big idea:  Klobuchar made waves when she released a plan to address the opioid crisis. Her policy includes improving access to care, investing in early-intervention programs, and lowering the cost of drugs that can help prevent a deadly overdose.
On other issues: While not the sexiest of topics, Klobuchar wants to improve the country's infrastructure, i.e., spend a trillion dollars to fix up our roads and bridges (among other things). And while she's at it, she plans to reform Big Tech, meaning companies like Facebook and Twitter will have a responsibility to keep your private information safe.
Controversy: Klobuchar has come under fire for harsh treatment of her staff, including berating them over email and throwing office supplies at them. Politico reported that she had the highest staff turnover in the Senate from 2001 to 2016. "Yes, I can be tough, and yes, I can push people," Klobuchar said of the reports, according to the Huffington Post. "I have high expectations for myself, I have high expectations for the people that work for me, but I have high expectations for this country."
Beto O'Rourke (46)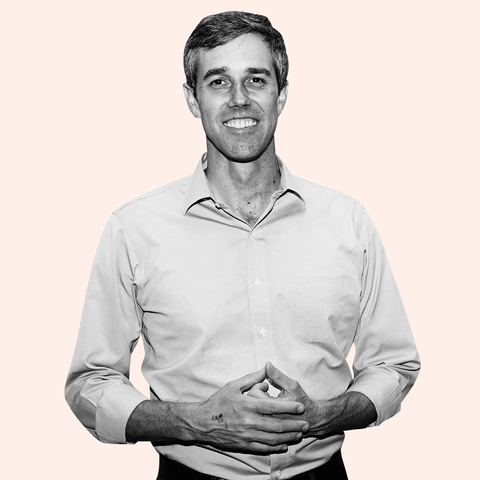 Resumé: 2018 U.S. senate candidate and former congressman from Texas
His big idea:  O'Rourke put out a proposal to combat climate change, including transitioning to clean energy, getting to zero emissions by 2050, and working with vulnerable communities to prepare them for the negative impacts of climate change. While similar to Inslee's ideas and the now-defunct Green New Deal, some climate-change activists say his timeline is not hawkish enough.
On other issues: He hasspoken out about the need for criminal justice reform, even writing publicly about how his own arrest record does not define him. (O'Rourke was arrested twice—once for forcible entry after he jumped a fence at the University of Texas at El Paso more than two decades ago, and then for drunk driving a few years later.) He has leaned in to immigration reform, namely giving Dreamers a path to U.S. citizenship, supports "universal, guaranteed, high quality health care," and the legalization of marijuana.
Controversy: In high school, O'Rourke belonged to a computer hacker group called the "Cult of the Dead Cow" where he wrote online fiction about killing children (he's said that he's "mortified" to read it now). More recently, he's been criticized for joking that his wife, Amy, has raised their children without his help. He's apologized for those remarks.
Tim Ryan (45)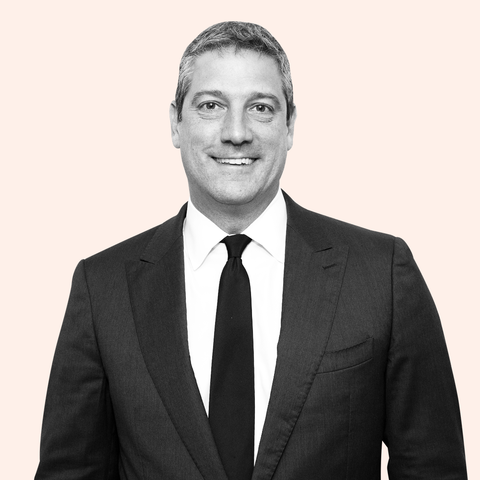 Current job: U.S. congressman from Ohio
Big idea: He wants to deal with the "economic disorientation" that many blue-collar workers are facing by helping people transition out of traditional manufacturing jobs and into modern industries like electric vehicles and renewable energy.
On other issues: While he used to have an A rating from the NRA and once opposed abortion, he has since changed his stance on both topics.
Bernie Sanders (77)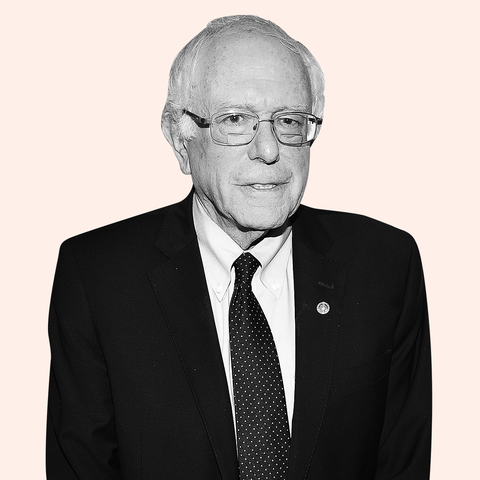 Resumé: U.S. senator from Vermont
His big idea: He created the Medicare for All Act.
On other issues: Sanders wants to raise the federal minimum wage to $15 an hour, rails against tax cuts for the wealthy, and is determined to create free public college. Bonus fact: While many candidates have come out in support of these proposals now, Sanders is considered the OG of many of these ideas.
Controversy: Several women who worked on his 2016 Presidential campaign came forward with accounts of sexual harassment and pay inequity. He has also been criticized for past votes on gun control, where he has been far more moderate than other candidates.
Eric Swalwell (38)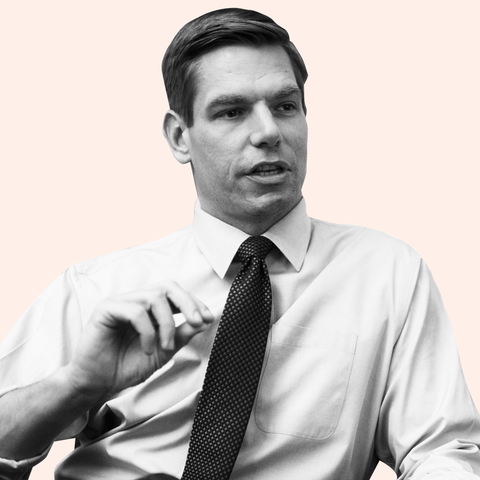 Resumé: U.S. Congressman from California
His big idea: There hasn't been a big policy push from Swalwell's campaign yet, but in public appearances, he's spoken out on his desire to stop gun violence, starting with banning and buying back assault weapons. Will he put forth a robust agenda? TBD.
On other issues: He wants more money spent on medical research and is for universal health care.
Controversy: While his take on gun reform has earned him praise, he got in some hot water when he seemed to suggest that he wanted to "nuke" gun owners.
Elizabeth Warren (69)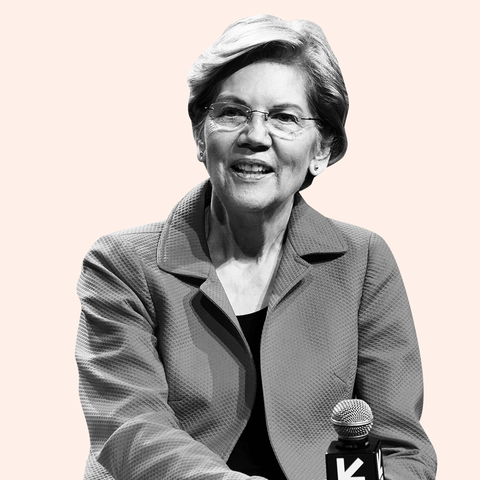 Resumé: U.S. senator from Massachusetts
Her big idea: Let's start here: She wants to cancel student debt. Her plan would eliminate college loans for 95 percent of people by taxing the wealthiest Americans.
On the issues: Where to begin? She wants to create universal childcare, tax millionaires, end corruption in Washington, reform the criminal justice system, decriminalize marijuana, create free two- and four-year colleges, throw major resources at the opioid epidemic, and lower the price of prescription drugs.
Controversy: In an effort to prove her Native American ancestry after Trump challenged her, Warren took a DNA test that sparked backlash among tribal leaders. She has since privately apologized to one of the Cherokee Nation leaders.
Andrew Yang (44)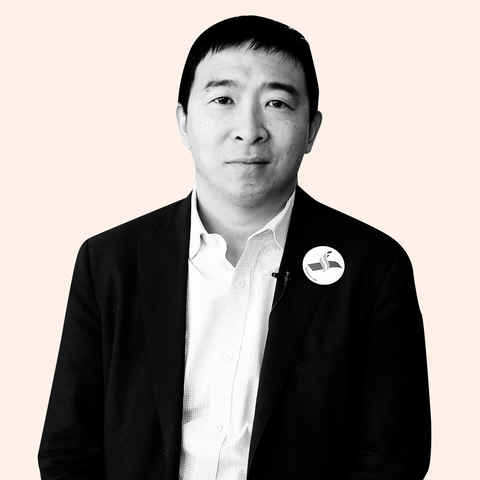 Resumé: entrepreneur
His big idea: Free money. Yang is the only candidate championing a Universal Basic Income (UBI) that would guarantee $1,000 a month for every single American over the age of 18.
On other issues: Yang also wants to dole out one $100 voucher per person from the government each year for people to donate to non-profits, while also legalizing marijuana and reworking the sentences of people serving jail time for weed offenses.
Controversy: Yang has oddly attracted support of many associated with white nationalist causes. However, Yang has spoken adamantly against these supporters, saying to The Verge: "I denounce and disavow hatred, bigotry, racism, white nationalism, antisemitism, and the alt-right in all its many forms. Full stop. For anyone with this agenda, we do not want your support. We do not want your votes. You are not welcome in this campaign."
Editor's note: While there are currently 21 Democratic candidates hoping to run for president in 2020, we only included those who qualified for the first round of debates at the time of publishing.